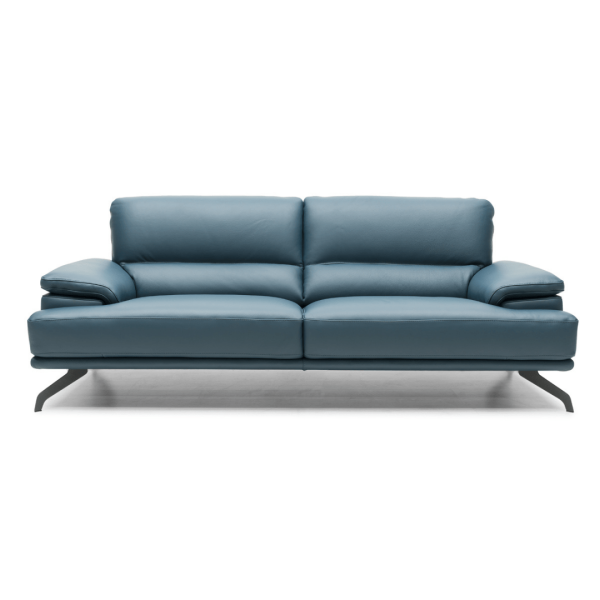 Available to Ship in 12 Weeks
Product Features
Upholstery Covering: Leather or Fabric
We have more Upholstery Options & Colors than those listed; please contact us to discuss all your options
Upholstery Options: Giada is available with 2 upholstery options:
1. All leather is the same color – sofa / armchair, armrest stitching, and base panel
2. Two-tone – the leather for the sofa / armchair is one color and the leather for the armrest-middle section and the base panel are a different color
Structure: Wooden Structure in multi-layer fir, fiberboard, and chipboard
Seat Cushion: Polyurethane density 35 x KG; and with elastic belts
Seat Back: Polyurethane with elastic belts
Armrest: Polyurethane
Legs: Metal, with a height of 6.89″; available in 13 colors: Blue, Brass, Brown, Chrome, Gold, Grainy Brown, Green, Grey, Matt Black, Red, Titanium, White Pearl, and Yellow
Giada Collection
Armchair – W 47.24″
Sofas:
– Extra Small – W 72.83″
– Small – W 80.71"
– Regular – W 88.58″
– Medium – W 98.43″
– Large – W 104.33″
– Extra Large – W 110.24″
– Extra Extra Large – W 122.05″
Ottoman – H 18.50″ x W 31.51″ x D 23.62″

Additional model compositions and sectionals are available, including Armchairs, Chaise Lounges, Terminal Seats, and an Ottoman – please call us at 866 436 0880 to create your unique piece
Vendor: Cubo Rosso
Designer: Cubo Rosso
Dimensions
Extra Small – H 35.43″ x W 72.83″ x D 38.58″
Small – H 35.43″ x W 80.71″ x D 38.58″
Regular – H 35.43″ x W 88.58″ x D 38.58″
Medium – H 35.43″ x W 98.43″ x D 38.58″
Large – H 35.43″ x W 104.33″ x D 38.58″
Extra Large – H 35.43″ x W 110.24″ x D 38.58″
Extra Extra Large – H 35.43″ x W 122.05″ x D 38.58″
Seat Height – 18.50″
Seat Depth – 22.83"
Chaise Lounge Depth – 66.14"
Armrest Height – 22.44"
Armrest Width – 11.42"
Leg Height – 6.89″
Additional Products
Armchair – H 35.43″ x W 47.24″" x D 38.58″
Ottoman – H 18.50″ x W 31.51″ x D 23.62″
Additional model combinations and sectionals are available, as are Armchairs, Chaise Lounges, Terminal Seats, and an Ottoman – please call us at 866 436 0880 to discuss your choices
Shipping
We offer complimentary free shipping in the continental USA.  Our complimentary free shipping service delivers your furniture to your front door.  If you require the installation of your furniture, you may select our White Glove Delivery Service.  White Glove Delivery Service can be selected at Checkout.
Other Products in The Collection
Giada with its timeless modern design emanates elegance, style, and comfort. Its thin base is supported by slim and angled metal legs. Embellished with soft and inviting cushions, high seatbacks, and comfortable armrests, its proportions are carefully designed to let you enjoy your relaxing moments. Beautiful accessory pillows can be ordered. Additional model configurations can be found in the Product Sheet (the dimensions are in centimeters). Please contact us for more information.
Designed and handcrafted by Italian Masters in Southern Italy. The region of Pulgia is famous for its stunning beaches and luxurious leather furniture. Only prestigious leathers, created by the art of Italian tanneries, are selected. Precious colors are enhanced by the dexterity of the tanning processes, resulting in pleasant sensations of touch with different grains and finishes.