Bellaria, with visually generous "Fellinian" modern design, encompassed in rather small and comfortable dimensions.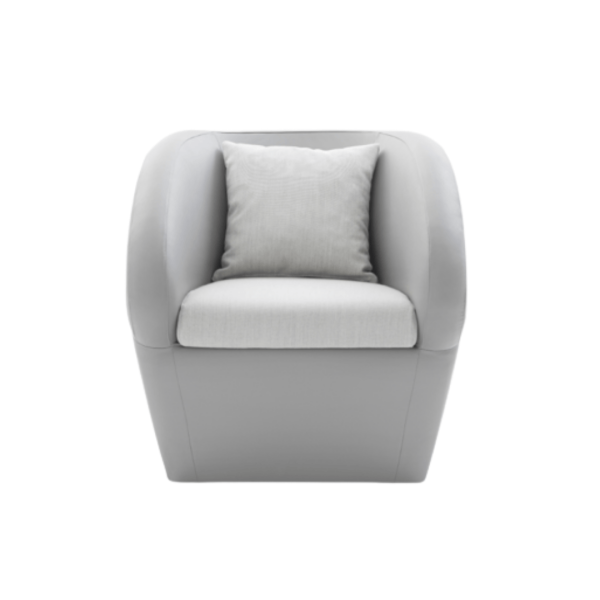 Available to Ship in 12 Weeks
Product Features
Upholstery Covering: Leather or Fabric – We have more leather and fabric types and colors than those listed on our website; please contact us for more information
Two-Tone Upholstery Option: Armchair upholstered in leather with the seat cushion upholstered in fabric. Please contact us for more information
Frame: Internal structure in plywood
Seat Cushion Padding: Variable-density polyurethane foam padding
Backrest Pillow: Loose pillow of variable-density polyurethane foam padding
Collection: The Bellaria Collection includes an Armchair and Sofa
Company: Paola Zani
Designer: Maddalena Casadei
Dimensions
H 32.28″ x W 32.30″ x D 34.25″
Shipping
We offer complimentary free shipping in the continental USA.  Our complimentary free shipping service delivers your furniture to your front door.  If you require the installation of your furniture, you may select our White Glove Delivery Service.  White Glove Delivery Service can be selected at Checkout.
Bellaria's modern design takes its shape from Juno, the goddess of marriage and birth. The armrests lean over the seat, giving the object a rounded shape. Although visually generous, it has rather small dimensions. Bellaria takes its name from one of Romagna's villages. Beautiful accessory pillows can be ordered. Additional model configurations can be found in the Product Sheet (the dimensions are in millimeters). Please contact us for more information.
Handcrafted by Italian Masters in Northern Italy, located just north of a design capital of the world, Milano, and beautiful Lake Como. A family business, with over 60 years of experience, this manufacturer is a modern spinoff from the original firm. They work with local and international design studios utilizing the finest leather, fabrics, and materials with a keen eye to sustainable practices.